Do you love to cook and are you tired of buying industrial treats for your dog? Discover 3 recipes to make them yourself :
1- Dog snacks with chicken
You will need: 210 g wheat flour, 1 egg, 1 pinch of salt, 1 teaspoon of chicken stock without salt, 2 chicken fillets cooked in small cubes, 250 ml of hot water.
Preheat the oven to 180 °C ;
Mix the chicken stock in a little hot water, add the flour, egg, chicken cubes and the rest of the hot water until you get a ball of dough ;
Roll out the dough with a rolling pin;
With a cookie cutter, shape the cookies and place them on a baking sheet covered with baking paper ;
Bake for 30 minutes at 180 °C.
Treats , your dog loves them! They are a reward for positive behaviour. In the same way, they are often used as part of his education. However, commercially available candies are not always ideal. When you choose "premium" models, the cost is relatively expensive. In addition, the quality and nature of the ingredients present contain preservatives and additives. Therefore, for dogs suffering from food allergies or following a specific diet, these treats should be avoided. This is why you make your dog's cakes and treats yourself!
Why should you make your dog's treats yourself?
When you make your dog's treats and cakes yourself, you know exactly what ingredients you're putting in them. So you can choose them carefully, respecting your pet's dietary restrictions. What's more, the treats will then be cheaper.
Be careful though, you can't put everything in dog candies. Some foods are toxic or poorly tolerated by his digestive system. Prohibited ingredients include the following:
*the chocolate ;
*garlic, onion; shallot;
*grapes;
*avocado;
*Macadamia nuts;
*some vegetables such as cabbage, radishes, or leeks.
In the same way, avoid over-salting, since 2 to 3 g of salt per kg of body weight is toxic for the dog, and lethal from 4g/kg of body weight. Similarly, foods rich in vegetable fibre such as whole wheat flour can cause digestive disorders. Finally, according to dogs, milk is not always very well digested, so prefer lactose-free milk.
Good to know :
When the cookies are baked, you can store them in a tin can or freeze them.
2- Peanut butter cookies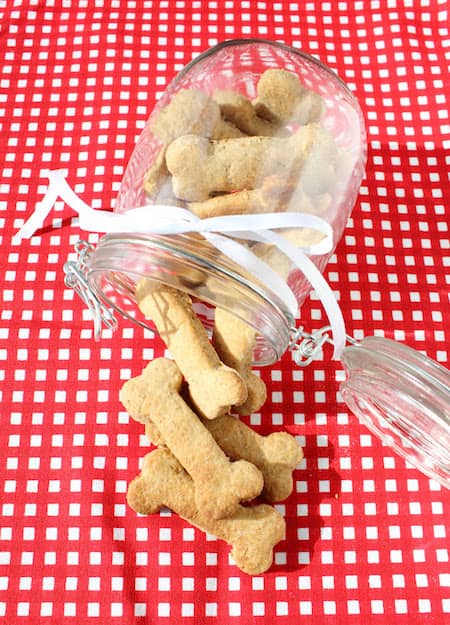 With this recipe ready in a few minutes, your doggie will be delighted and so will your wallet.
Ingredients :
How to do it
Preheat your furnace to 190 °C.
Mix the flour and baking powder together in a bowl.
Mix the peanut butter and milk in another bowl. 4. Turn until you get a smooth dough.
Pour your mixture into the flour and powder.
Mix again to obtain a homogeneous paste.
Spread the dough until 2.5 cm thick.
Take your cookie cutters and place them on the dough.
Press on the dough to cut it out.
Cover a baking tray with a sheet of baking paper. 11. Place your cookies on it. 12. Put in the oven for 20 min.
3- Vegetarian Biscuits
Here's a good, easy recipe to make so that your doggie will eat vegetables without him noticing.
Here's a good, easy recipe to make so that your doggie will eat vegetables without him noticing.
Ingredients
200 g of gluten-free or wholemeal flour
– 50 g of oat flakes – 1/2 sachet of baking powder
– 130 g of grated carrots
– 70 g of dates, i.e. 6 to 7 dates
– 90 g of peanut butter (without salt) –
5 cl of water (+ 5 cl if necessary)
How to do it
Preheat the furnace to 200 °C.
Mix the flour and baking powder in a bowl.
Add the oat flakes.
Mix in.
Pour the dates into another container.
Add the grated carrots.
Add the peanut butter.
Mix these 3 ingredients together.
Pour this mixture into the other container.
Mix carefully to get a homogeneous paste.
Take a baking tray.
Place a sheet of baking paper on top.
Spread the dough on it.
Using a knife or cookie cutters, shape the cookies.
Put in the oven for 15 minutes until they are golden brown.